The idea of a magical Christmas event is one that everyone can use some extra love and support, but instead what happened? A mother claimed her family's annual children's party was ruined because Santa looked homeless.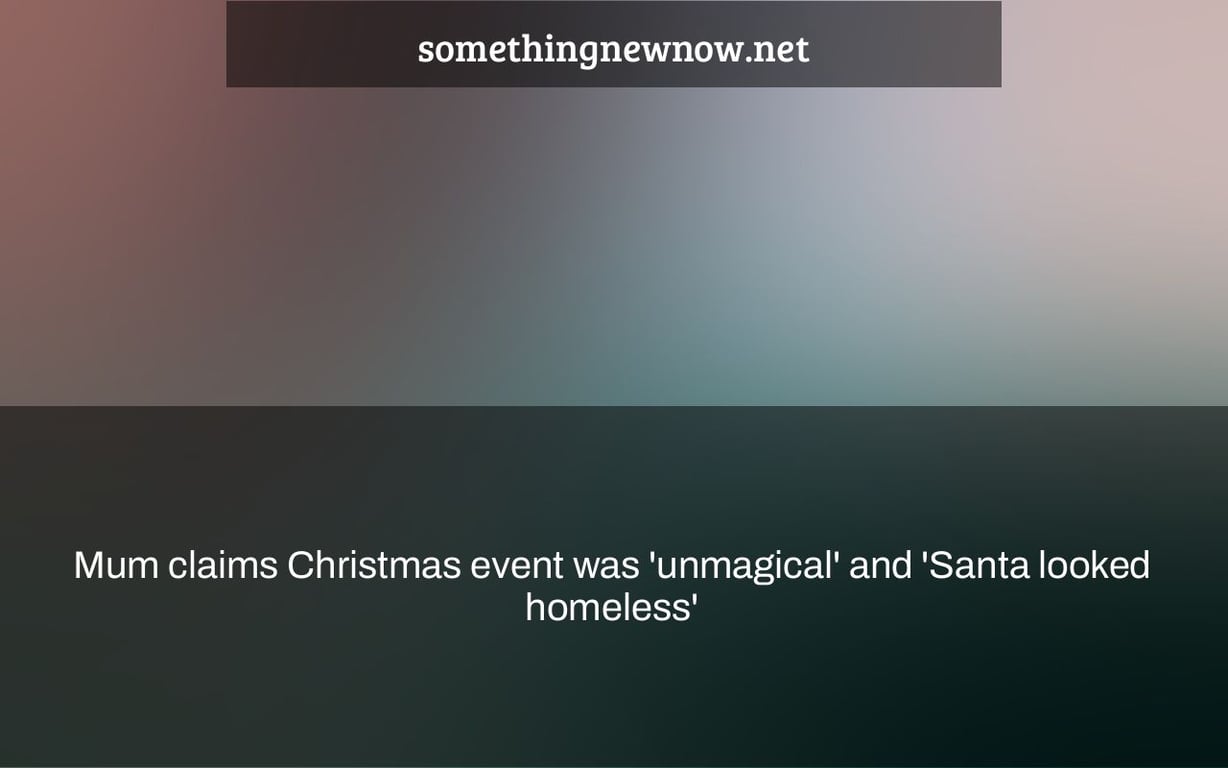 The angry mother described the event as a "rip-off." (Image courtesy of Kennedy News and Media)
A lady has requested a refund for a holiday train journey that she says caused her children to doubt the existence of Santa Claus.
Melissa Evans shared a negative assessment of the Polar Express ride on Facebook, along with a picture of the event's Father Christmas, whom she described as "homeless" and who didn't utter "ho, ho, ho."
After paying £135 for the 'disappointing' train trip last month, the 35-year-old has accused Telford Steam Railway of 'ripping people off and making a mint on a really bad display.'
However, she has been chastised for uploading images of the event's Father Christmas on social media, despite the fact that her critical review was swamped by a majority of positive reviews.
Melissa, from Cannock, Staffordshire, went to see the Polar Express on Sunday, November 28 with her boyfriend, daughter, stepdaughter, and niece.
Customers may 'embrace the spirit of Christmas on their wonder-filled ride,' according to the event, which is described as "an immersive re-creation inspired by the classic 2004 Polar Express film."
Melissa, on the other hand, thinks that the 40-minute train ride was 'not amazing at all.'
'There was no Santa figure, no "ho, ho, ho," he literally just strolled on and said "hello" — he didn't connect with the children,' she claimed.
After the day out, Melissa Evans claimed her kids inquired whether Santa Claus was real (Picture: Kennedy News and Media)
'I'm not going to say it because it's unpleasant, but he appeared like a homeless man had boarded the train.' There was nothing special about him; he wasn't in character.
"That is not Santa," my seven-year-old exclaimed as soon as he walked away.
Melissa said that it wasn't all bad, adding that the walk down to the railway station was'magical,' and that the locomotive was 'wonderful.'
'It was a million miles from' from what her family received, she added, after viewing images of friends' Polar Express adventures.
Some have chimed in to back Melissa's harsh criticism, claiming that they, too, were disappointed after reserving the same 'expensive event.'
Father Christmas at the event was chastised for 'appearing destitute.' (Image courtesy of Kennedy News and Media)
Telford Steam Railway is managed entirely by volunteers, and Melissa has been chastised for claiming that it is 'ripping people off.' (Image courtesy of Kennedy News and Media)
Others, on the other hand, criticized her as "entitled," pointing out that the historic railway is managed entirely by volunteers.
Melissa, on the other hand, is sticking to her guns and hopes to earn "at least a partial return" after filing an official complaint.
'It was 100 percent not worth the expense,' she added. 'To me, £135 is a lot of money to pay to see Santa for him to show up like that.'
'We have reinforced our customer service staff, and any open inquiries are being handled with by our volunteers as swiftly as possible,' Telford Steam Railway reacted to Melissa's complaint on social media.
'We appreciate your patience and thank you for any helpful input. We will contact any disgruntled customers individually through private message or email.'
Telford Steam Railway was approached for further information.
Send an email to [email protected] to reach out to our news staff.
Check out our news page for more articles like this.
Get the most up-to-date information, feel-good stories, commentary, and more.
Watch This Video-